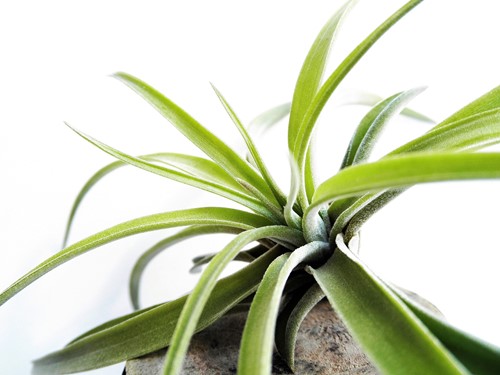 Since air plants do not need any soil to grow and thrive, the sky is the limit in how you can display them. You just have to fire up your imagination to find fun ways to put them on display around your household. Running low on ideas? Here's five options to help get you dreaming of all the possibilities.
Seashells
When you put your favorite air plant in the mouth of a beautiful seashell, you get to experience surf and turf in a whole new way. Large conch shells work best for this purpose, although lightning whelk, murex and limpet shells are some other great options.
You can also go with acrylic shell replicas if you cannot find any natural shells or don't want to disturb the environment. Either way, you'll have to pick your air plants precisely to make sure their base will fit in the shell.
Driftwood
Since it comes in so many interesting shapes and sizes, driftwood makes the perfect mounting surface for air plants. The wood background makes the plants look like they are growing out of the surface, especially if you surround their bases with moss.
You can either collect your own driftwood from authorized beaches or buy some from the craft store or a private seller. Then, attach the air plants with green florist wire.
Glass Globes
If you'd like to create your own mini ecosystem filled with air plants and so much more, go with glass globe displays. The globes can sit flat on your desk, hang from a plant hook or balance on their own display stand.
Since you'll fill the bottom with aquarium gravel, glass beads or another substrate of your choice, you don't have to affix the air plants in place using glue or wire. Just tuck them into the substrate and then fill the space with rocks, pinecones and other decorations.
3D Prints
If you have a 3D printer or can access one at a library makerspace or friend's house, the world of air plant displays opens up to you like never before. There are endless free and paid display designs available, such as:
Jellyfish hangers

Geometric shapes

Landscapes

Wall frames

Faux trees
You can even print your favorite characters and have them hold your air plants for you. Create a cavity when you're printing. This allows you to tuck the air plant into a snug crevice so it doesn't move around.
Mini Mannequins
Mini mannequins are the perfect size for holding air plants, and they look great striking a pose with their newfound friend. You can have your mannequin hug the plant around the middle or hold it high above their head.
As you bring home more and more air plants, additional display ideas will undoubtedly come to you. Use wire to hold the plants in place if you're unsure if your idea will work out or permanently fix them in place and admire your new art.