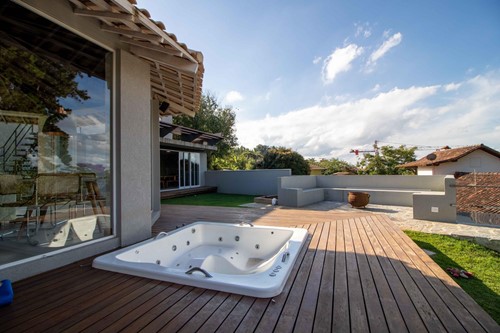 There are many choices involved in building a new outdoor deck. Size, shape, style and building materials are just some variables involved in the project. To create a truly excellent outdoor living space, it's crucial to think beyond the basics and choose the best design for your lifestyle.
If you're interested in ideas for stellar outdoor deck design, here are some options to consider:
Celebrate the view with a balcony-style deck
Does your home boast a beautiful view? Whether it's a neighborhood vista or a view of your beautiful landscaping, building a balcony-style deck is the perfect way to enjoy the great outdoors at home.
A balcony-style deck design is simple and relatively easy to install. For a small outdoor space, try including built-in seating in your deck design. Ensuring that your deck connects to the side of your home will also save valuable square footage while still providing an exceptional place to enjoy the natural beauty of your yard.
Incorporate a swimming pool or hot tub for at-home luxury
You can create your own spa-like outdoor oasis by including a pool or hot tub into your deck design. A raised deck with a sunken hot tub is the perfect way to achieve a sleek, uncluttered aesthetic. If your yard already has a swimming pool, building an enclosed deck to surround it creates both functionality and privacy.
If you prefer to relax by the water, include lounge chairs and an outdoor coffee table where you can enjoy your downtime. You can make your deck even more luxurious by including plenty of water-resistant throw pillows and an outdoor rug.
Enjoy your deck all year with a cozy fire pit
A fire pit is a popular focal point for any outdoor living space, and can make a perfect addition to your deck design. With the myriad styles of fire pit available to buy and build, finding the best choice for your deck is easy.
For a rustic vibe, a classic stone or concrete fire pit will do the trick. Otherwise, consider adding an outdoor fireplace to extend your home's living space into the great outdoors. A brick wall creates the perfect backdrop for a simple, space-saving fire pit you can incorporate into any outdoor dining area or cozy gathering space.
No matter what direction you decide to go with your outdoor deck, these ideas can help you get started in the right direction.